[Chart courtesy of MarketWatch.com]
Moving the markets
It was a weak Wednesday with the major indexes wandering aimlessly after the release of the Fed's Beige book showed that "economic activity grew at a slight-to-moderate pace" in March and early April. Upward pressure on wages indicated a tight labor market, however, retail and auto sales were sluggish.
Speaking of the former, U.S retailers have already closed more stores than they did all last year:
This year, US retailers have announced that 5,994 stores will close. That number already exceeds last year's total of 5,864 closure announcements, according to a recent report from Coresight Research.
And:
"I expect store closures to accelerate in 2019, hitting some 12,000 by year end," Deborah Weinswig, founder and CEO of Coresight, said.
This is nothing new, as we have been getting many signs that the economy has been slipping and sliding and, with GDP growth declining and Manufacturing falling, the dreaded "R-word" (as in recession) appears to be coming into focus by the Main Stream Media.
Not helping the markets today was the Healthcare sector, which took another beating, as changes to the health policy landscape appear on the horizon. Political pressure over hefty drug prices brought on new proposals from Bernie Sanders suggesting a single payer system with unknown effects on the entire industry.
In the end, the major indexes had another sluggish day and ended slightly in the red. That did not keep the Nasdaq 100 from making a new record high—in the face of tumbling earnings.
Go figure…
ETFs in the Spotlight
In case you missed the announcement and description of this section, you can read it here again.
It features 10 broadly diversified and sector ETFs from my HighVolume list as posted every Saturday. Furthermore, they are screened for the lowest MaxDD% number meaning they have been showing better resistance to temporary sell offs than all others over the past year.
The below table simply demonstrates the magnitude with which some of the ETFs are fluctuating regarding their positions above or below their respective individual trend lines (%+/-M/A). A break below, represented by a negative number, shows weakness, while a break above, represented by a positive percentage, shows strength.
For hundreds of ETF choices, be sure to reference Thursday's StatSheet.
For this current domestic "Buy" cycle, here's how some our candidates have fared: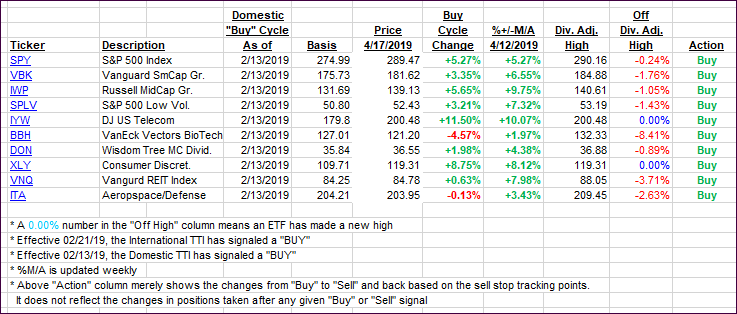 Again, the %+/-M/A column above shows the position of the various ETFs in relation to their respective long-term trend lines, while the trailing sell stops are being tracked in the "Off High" column. The "Action" column will signal a "Sell" once the -8% point has been taken out in the "Off High" column. For more volatile sector ETFs, the trigger point is -10%.
Trend Tracking Indexes (TTIs)
Our Trend Tracking Indexes (TTIs) were mixed with the Domestic one stumbling while the International one squeezed out a small gain.
Here's how we closed 04/17/2019:
Domestic TTI: +5.74% above its M/A (last close +6.36%)—Buy signal effective 02/13/2019
International TTI: +4.38% above its M/A (last close +4.31%)—Buy signal effective 02/21/2019
Disclosure: I am obliged to inform you that I, as well as my advisory clients, own some of the ETFs listed in the above table. Furthermore, they do not represent a specific investment recommendation for you, they merely show which ETFs from the universe I track are falling within the specified guidelines.