ETF Tracker StatSheet
https://www.theetfbully.com/2019/03/weekly-statsheet-for-the-etf-tracker-newsletter-updated-through-03-14-2019/
ENDING A GOOD WEEK ON A POSITIVE

[Chart courtesy of MarketWatch.com]
Moving the markets
The quadruple witching hour came and went and ended up having a positive effect on equities, which more than made up for last week's pullback. Along the way, traders ignored the unreliable news reports about the U.S.-China trade negotiations as well as China's latest data showing that their economic slowdown is alive and well.
To elaborate, today is "quadruple witching" Friday, when contracts for stock-index futures, stock index options, individual stock options and individual stock futures all expire. This can lead to increased volatility, which simply means today's market direction is not a guarantee of things to come.
As a matter of fact, the opposite is a likely possibility, which ZH explains this way:
The risk is that both prior "witches" took place just ahead of major reversals in the S&P, the first in September, just as the market peaked, the second in December, just before the trough.
 For now, however, it is shaping up as another impressive week for US stocks, which have not only erased all of last week's losses but are set for their second-best week of the year.
Bond market action surprised with the 10-year yield plummeting and closing at not only 2019 lows but also at the lowest since January 2018, while equities continued their relentless march to loftier heights, as the divergence widened. Even sliding EPS expectations and weakening macro data don't seem to be able to contain the push to higher levels—at least not yet.
The S&P 500 finally managed to conquer and close above the 2,817 zone at the 5th attempt, but more work is needed in order to close in on the all-time high made  in September 2018.
Our Trend Tracking Indexes (TTIs) rallied along with the major indexes this week and climbed deeper into bullish territory. That does not mean we are complacent, but we are very aware that volatility could return with a vengeance. That is why our exit strategy remains in place, just in case bearish forces suddenly gain the upper hand again.
ETFs in the Spotlight
In case you missed the announcement and description of this section, you can read it here again.
It features 10 broadly diversified and sector ETFs from my HighVolume list as posted every Saturday. Furthermore, they are screened for the lowest MaxDD% number meaning they have been showing better resistance to temporary sell offs than all others over the past year.
The below table simply demonstrates the magnitude with which some of the ETFs are fluctuating regarding their positions above or below their respective individual trend lines (%+/-M/A). A break below, represented by a negative number, shows weakness, while a break above, represented by a positive percentage, shows strength.
For hundreds of ETF choices, be sure to reference Thursday's StatSheet.
For this current domestic "Buy" cycle, here's how some our candidates have fared: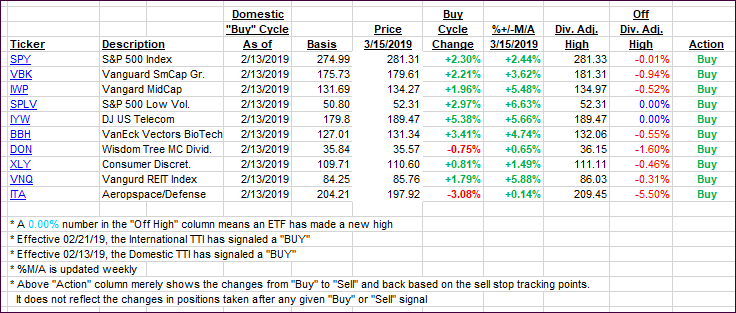 Again, the %+/-M/A column above shows the position of the various ETFs in relation to their respective long-term trend lines, while the trailing sell stops are being tracked in the "Off High" column. The "Action" column will signal a "Sell" once the -8% point has been taken out in the "Off High" column. For more volatile sector ETFs, the trigger point is -10%.
Trend Tracking Indexes (TTIs)
Our Trend Tracking Indexes (TTIs) jumped and closed deeper on the bullish side of their respective trend lines.
Here's how we closed 03/15/2019:
Domestic TTI: +3.22% above its M/A (last close +2.90%)—Buy signal effective 02/13/2019
International TTI: +1.98% above its M/A (last close +1.35%)—Buy signal effective 02/21/2019
Disclosure: I am obliged to inform you that I, as well as my advisory clients, own some of the ETFs listed in the above table. Furthermore, they do not represent a specific investment recommendation for you, they merely show which ETFs from the universe I track are falling within the specified guidelines.
———————————————————-
WOULD YOU LIKE TO HAVE YOUR INVESTMENTS PROFESSIONALLY MANAGED?
Do you have the time to follow our investment plans yourself? If you are a busy professional who would like to have his portfolio managed using our methodology, please contact me directly or get more details at:
https://www.theetfbully.com/personal-investment-management/
———————————————————
Back issues of the ETF/No Load Fund Tracker are available on the web at: